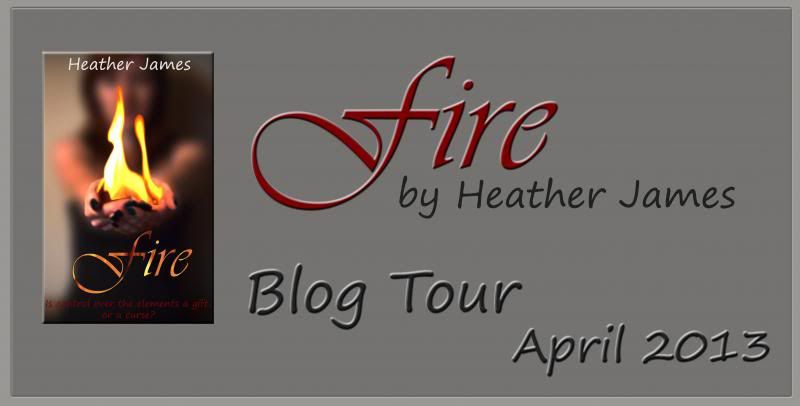 Hey everyone! Today, I'll be doing a blog tour which will include a review, guest post and GIVEAWAY! Hope you enjoy!

Publisher: Self-published
Is control over the elements a gift, or a curse? Roxy thinks that she is in control of everything: with flames flaring at her fingertips and an equally fiery attitude, what more could she need? But then she meets Brae, a prince from a rival Realm, who turns her assumptions of superiority upside down. Jasmine has none of Roxy's confidence or intensity. But she does have a secret - and Brae - and she's not going to give either up willingly.
Review

Fire. The one word which says it all. This book was absolutely brilliant! Fire is told in dual points of view, Roxy and Jasmine. Roxy is from the Helian realm, has red hair and has the power to control fire. She is also the grandaughter of King Nero. Unlike Roxy, Jasmine is from the Arcan realm and by right, should be able to control air. She is a very close friend of the Arcan Prince, Brae, who is the main male lead.

In their world, there are four relams:
The Brizan Realm: Water
The Arcan Realm: Air
The Helian Realm: Fire
The Sephan Realm: Earth

And each protector from each realm has a different characteristic which matches their elemental powers (e.g: Roxy is feisty as she controls fire). Also, they have different streaks of color in their hair;
blue for Brizan, silver for Arcan, red for Helian and green for Sephan.
However, and this is where it gets interesting, Jasmine is keeping a secret from everyone, she has purple streaks! Immediately I'm thinking, hmmm....maybe she had parents from different realms, as she was taken on from an early age by someone else.

And worse, this is the painful part which I'm sure most of you will guess from early on but there is a love triangle! No! My heart is screaming from the torture. All the characters are so easy to like, although Jasmine took awhile too warm up to. And by the time Brae and Roxy met, my mind was in total chaos...Heather, you are one brilliant writer! And lastly, the ending...a CLIFFHANGER!!! Ok, so I'm not a huge fan of them cause of all the time I have to spend dying for the release of the next book but, cliffhanger or not, I would read Fire regardless of anything. The book was just that good. I feel really honored to be able to read this book, so thank you so very much Heather! And to everyone out there, hurry up! Enter the giveaway to win a copy of Fire! You don't want to miss out on all the excitement!
Here's a quick guest post by the author, Heather James!
I'm Heather James, author of the 'Elements of Power' YA fantasy series. I'm British, living just outside of London, and when I'm not writing, I tend to be reading. Here are a few book and writing related facts about me:
1.
My favourite series is a three-way tie between 'Harry Potter' 'The Mortal Instruments' and 'Uglies'. I would find it really hard to pick between them.
2.
The last amazing book I read was 'Daughter of Smoke and Bone' by Laini Taylor. It's a really unique take on fantasy and angels and I can't wait to read the sequel.
3.
I like ebooks and physical books equally. I love my kindle for its versatility – I can read books anywhere on anything, but I also like owning physical books, especially when they have pretty covers.
4.
I am currently reading 'Clockwork Princess' by Cassandra Clare. And I'm loving every word (so far – I may change my mind if Tessa doesn't end up with Will…)
5.
I dream of owning enough books to have my own mini-library, or at least an entire wall of bookcases!
6.
I love names and am always making a note of good ones for future characters. The more unusual the better.
7.
I'm mildly addicted to Pinterest – I could spend hours on it if I let myself. It's great for collecting story ideas though, so my time on it isn't completely wasted!
8.
I wrote my university dissertation on the use of politics and authority in Harry Potter – I decided that if I was going to write 10,000 words on something, it ought to be a topic I was really interested in.
10.
My favourite novel hero is Valek from Poison Study: he's a great blend of sexy, dangerous and loving.
Finally, as promised, a Giveaway!
And like all my other giveaways, this one is INTERNATIONAL!
Hope you enjoy!
The prize is a smashwords edition of Fire by Heather James :)

a Rafflecopter giveaway